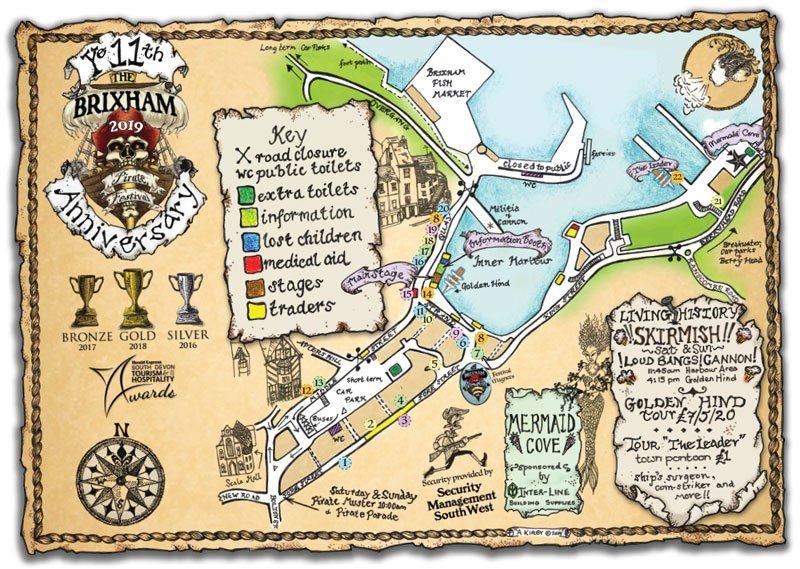 Ahoy There Me Hearties!
We're providing a spectacular map to get you around the town during the festival!
These maps will be available for free from the Information Booth and a number of locations around Torbay, but you can also download a digital copy here!
We look forward to seeing ye on the 4th, 5th and 6th!
Yeee'aaaaaaaarg!
Opening Procession
Muster from 10.00 at the top of Fore Street.
Saturday – 10.15. We will have the Official Opening by Brixham Town Council followed by our Pirate Parade
Sunday – 10.00 Muster and Parade.
Join in and give us your best Captain Jack's 'Mincey Mincey' or Swashbuckling Swagger.
HUZZAH!!!!!!!!!!
The BPF Rules
We be an easy goin' crew at the Brixham Pirate Fest, but there are some general rules of thumb we'd like ye all to adhere to savy?
Please Keep the town tidy! There be plenty o' bins with regular collection over the festival, use em! Keep our wonderful port clean for the next pirates!
If ye carry a sword, make sure it be peace tied! The local constables will be keeping an eye out for loose swords, so it best be kept tied to your scabbard to avoid any entanglements with the law! (LARP, Foam and Toy swords are fine)
Our cannons be loud! Check the map for an idea of firing times if you be sensitive with the hearing so ye can get some distance from the harbour during our displays of glorious firepower!
Requires a PDF Reader such as Adobe Reader