There will be a variety of events going on over the Pirate Festival long weekend, from live music to a Pirate Cruise, there will be plenty to see and do for the whole family!
Pirate Festival 2016 Lineup
Here is a lineup for the 2016, please note all details are subject to change at this early stage.
| Time | Saturday | Sunday | Monday |
| --- | --- | --- | --- |
| 11:00am | Pirates of St Piran | Captain Morgan's Rum Do | Exmouth Shanty Men |
| 12:30pm | The Salts | Old Gaffers | Bonsai Pirates |
| 1:30pm | Skirmish on Golden Hind | Skirmish on Golden Hind | |
| 2:00pm | Captain Morgan's Rum Do | Captain's Beard | Old Gaffers |
| 3:30pm | Blunderbuster | Blunderbuster | Gurdy Bird |
| 5:00pm | The Pyrates | Seas of Mirth | Black Friday |

This year promises to be a veritable treasure trove of excitement with a boat load of exciting skirmishes, fantastical yet historical re-enactors, and everything in between! Click to read more!
Confirmed musical guests:
Seas of Mirth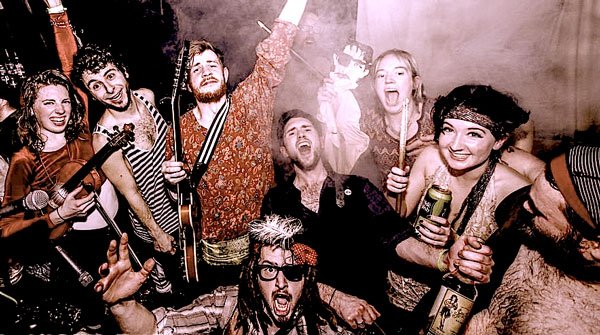 Seas of Mirth, a nautical piece of rugged, misplaced corsairs with a vigorous galleon of sound.
"Before you even reach the music, Seas of Mirth will bring a smile to your face" – Bright Young Folk
"This band is surely the finest festival opening act of all time" – Vibrations
"A glorious experience that even a hardened land lubber couldn't fail to love" – Nottingham Live
"It was okay!" – The mayor of Matlock
---
Captain Morgan's Rum Do

Our music is in the folk-rock or pirate-rock genre more than any other, featuring entirely original compositions by Roy Mette which tell the stories of the authentic pirates of the Golden Age of piracy.  The stories are not lacking in blood, gore, plague, violence and so on, but have been tried out on mixed audiences and seem to go down well with festival crowds of all ages, genders, etc.
---
The Captain's Beard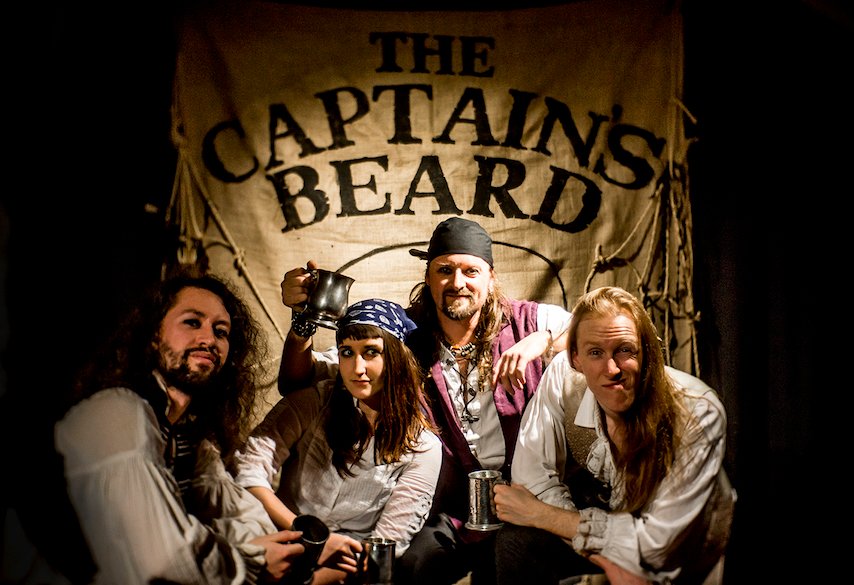 Yarrr! The Captain's Beard be a company o' travelin' troubadors on a quest te bring the finest o' sea shanties and forebitters to the ears of all who'll listen. When we're not engaged in the villainous depravity that is customary of our occupation we play songs of the grog, grot and grime that comes o' travelling the high seas.
---
Black Friday
BLACK FRIDAY are a high energy Celtic folk punk band from St Germans in Cornwall. Their music is a fine mix of original songs, traditional Irish jigs, reels and ballads.
They have played all over the UK and Europe, playing well over 100 gigs in 2014 alone. And 2015 looks set to get even busier. The band plays a variety of venues and festivals, such as The Maker Festival, The Port Eliot Festival, The Electric Picnic in Ireland, Donauinsel Festival in Austria, The Plymouth Folk Festival, The Looe Music Festival. Calstock Biker Festival, Burnham-on-Sea Folk Festival and Wimbourne Folk Festival.
After playing at the reknowned Gaz's Rockin' Blues Club in Soho, London, they were spotted by top BBC Radio 2 DJ, Marc Lamarr, who invited them to record a 6 song session for his radio show at the famous Maida Vale Studios in London. Whilst they were there, they played for and met their hero and Pogues singer, Shane MacGowan, who was very impressed, especially with their rendition of the folk classic Dirty Old Town.
---
The 2 Anchors
The 2 Anchors have been kindly described as "Gloucester's Premier Shanty Crew" and have, since 2009, been delighting audiences around the UK with their own brand of Shantynanigans.
Having played in Maritime and Shanty festivals in Liverpool, Falmouth and Ellesmere Port; Folk Festivals in Upton-upon-Severn, Gloucester Tall Ships Festival, Cheltenham and Stroud Folk Festivals they are the host crew and organisers of the Gloucester Shanty Festival.
With a close, tight sound they put a huge amount of energy into their shows and place passion into the heart of shanty singing and singing about the sea. They have been known to make people sing, cry, weep and laugh in equal measure and guarantee that you will have a great time, or your money back!
You know when you've been 2 Anchored.
---
The Old Gaffers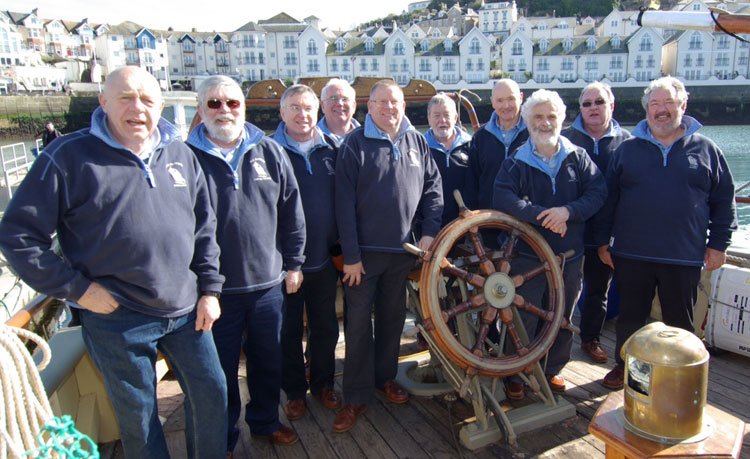 We've been rocking assorted boats, and all sorts of other stages since 2010.
With our own brand of humour, no nonsense no gimmicks acapela sea shanties and other sea songs, we have entertained audiences at festivals and concerts the length and breadth of the country, and soon to be the continent.
We have been on national and local television and radio and recorded 3 CDs.
With an average age of 45, (sorry that should be waist size), and a groupie fan base of well over one we are going from strength to strength!
---
Pyrates!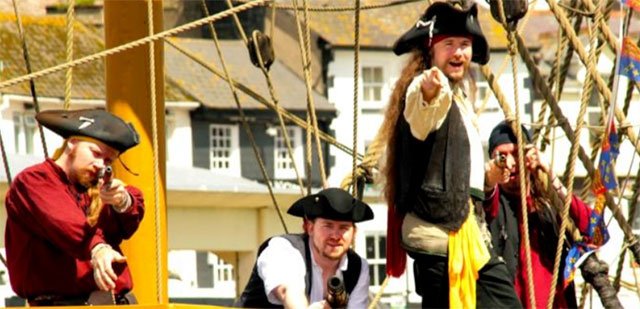 Pyrates! are a sea faring band of musical marauders who've imposed their own brand of pirate themed electric folk rock music to fellow pirates and unfortunate landlubbers not only in their own country but across the seas themselves.
These able bodied bawdy balladeers, having left their native England, now sail from the shores of the Netherlands to many rowdy ports across the world.
Armed with guitar, bass, drums and fiddle, These gentlemen of fortune perform in full pirate costume and sing all songs in the quay of ARRRR!
---
Stix Drummers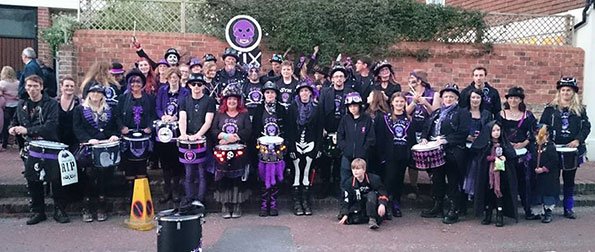 Stix Rhythmic Drummers are based in Eastbourne, East Sussex. We drum at various locations across the country including Brixham Pirate Festival, Medieval events at Herstmonceux Castle, Spiritual Awareness in Essex, Bonfires across East Sussex, Steampunk festivals, carnivals, charity fundraising events, weddings and other specials occasions – the list is endless. You can't miss us as we're the ones dressed in purple and black steampunk and gothic attire.
---
Bonsai Pirates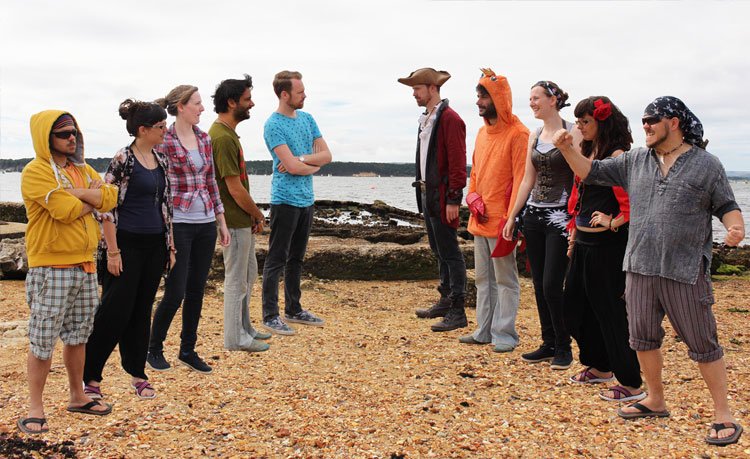 Yoho! We are the Bonsai Pirates. We are a 5 piece folk-pop-indie-pirate act! Our aim at every show is to get people up, dancing, singing and smiling. We sings songs of love, booze, the sea and tattoos, perfect for any festival or venue! Our line up boasts guitar, bass, drums, male and female vocals and French rap!
---
GurdyBird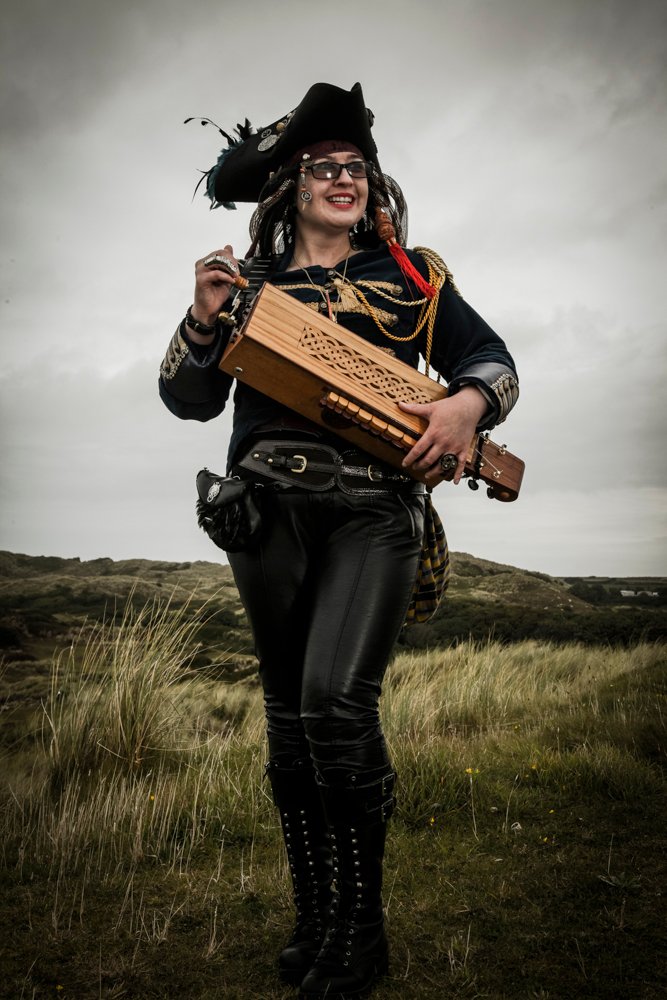 GurdyBird, or Tamsyn Swingler is a Cornish artist/illustrator/poet/designer and craftmaker who has been playing her beloved Symphonie since late 2010 (with a 6 month break whilst recovering from illness) and has composed, programmed and perfomed for art pieces and short sketches with The Pink Bear Club and Kayleigh O'Keefe. She loves to perform in costume and frequents relaxed events and festivals, playing in the sidelines and talking about her instrument. 2014 sees the start of her work on stage.
"Like a folky Nine Inch Nails." – Matt Lee – Revolutionary Radio on Phonic FM
---
The Exmouth Shanty Men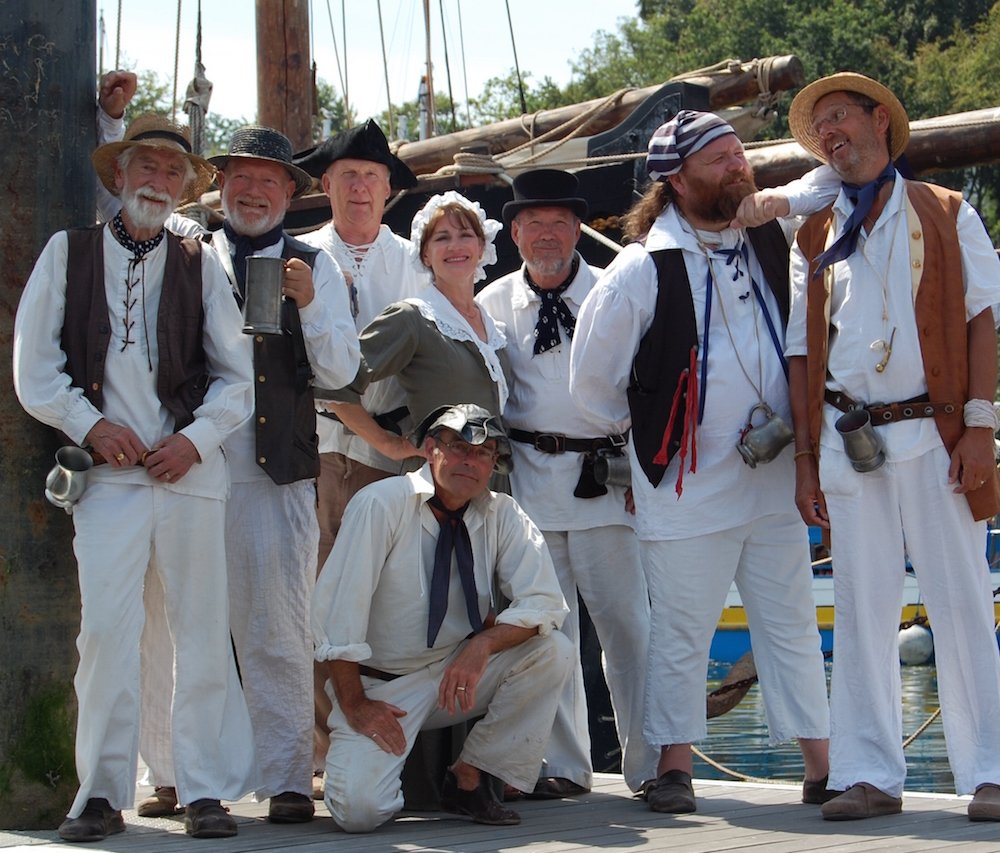 Devon's favourite "buoy band", The Exmouth Shanty Men, formed in 2007 to breathe new life into the County's rich maritime heritage, are in demand at home and abroad.  They have played the main stage at Sidmouth, Warwick, Banbury and Wadebridge folk festivals and have enjoyed visits to Ireland, France, Belgium, Holland, Germany and Poland, where they were honoured to win the Stan Hugill trophy for the most authentic shanties.  They have appeared on national television and radio in the UK and in Europe, but can be found with a song and a pint every Tuesday in a pub overlooking Exmouth dock. Their fourth album "Run Ashore" will keep the pigeons off your peas, if mounted on a sharp stick.
---
Blunderbuster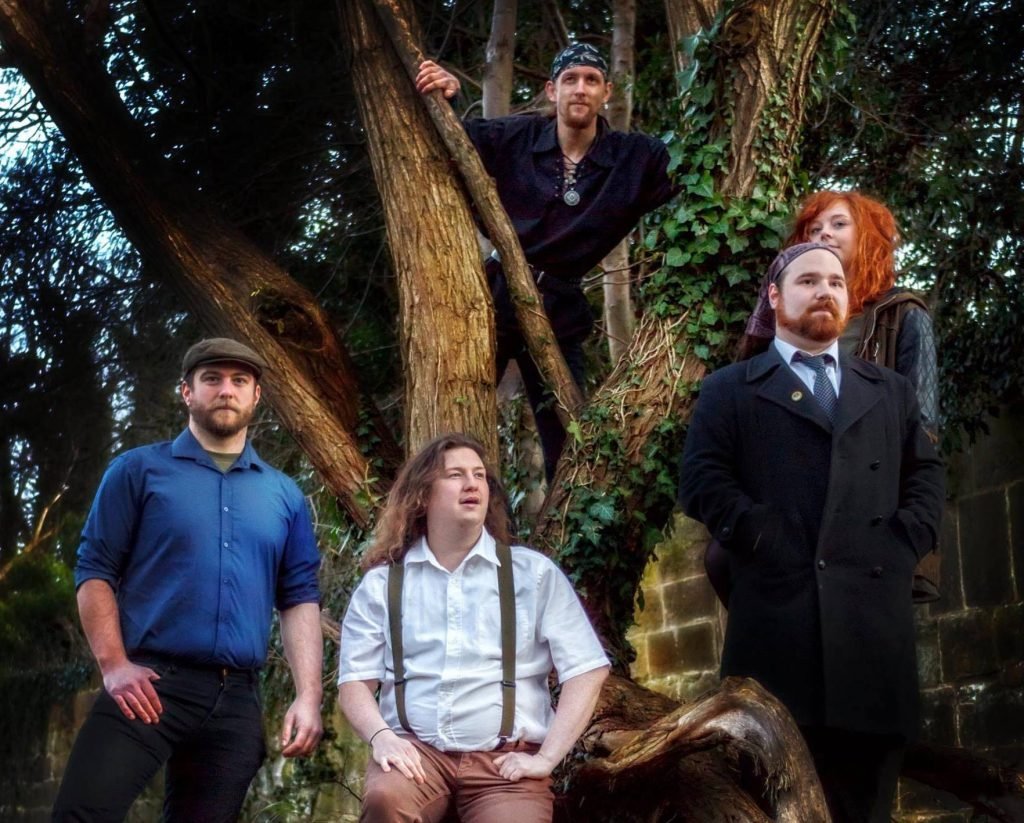 Blunderbuster are a 5-piece folk/punk band currently based in Staffordshire/Derbyshire. Their sound mixes elements of traditional British folk music with punk and metal.
Formed out of a mutual love of all things folky and all things heavy. Blunderbuster started life with a vastly different line-up including a different bassist and drummer, as well as an accordian player and a tin whistle and banjo player. But as we all know sometimes life gets in the way and changes were made. The dropping out of most of the folk instrument players curved Blunderbuster's sound to be much heavier and more punk oriented. Thus creating the sound that you can now hear at our live shows.
We currently have an E.P out and are working on material for our first full-length album.
---
"les corsaires de la Vesdre"from East Belgium
We are a Belgian group of 5 or 6 people. We live in eastern Belgium, at the borders of Germany and the Netherlands, in what is called the Euregio.
we live in the French-speaking part of the country but some of us are bilingual, German-French
we sing real shanties but also songs of the sea or sailors, which are not strictly speaking  shanties  but which speak about the life of the women of sailors, the homesickness, of the lastrest, of the nights in the ports; we sing also prayers of the sailors.
we perform in Belgium, France, Germany, the Netherlands and England.

This year promises to be a veritable treasure trove of excitement with a boat load of exciting skirmishes, fantastical yet historical re-enactors, and everything in between! Click to read more!
The Smugglers Run is an exciting new addition to the Brixham Pirate Festival! Find out more by following the link!